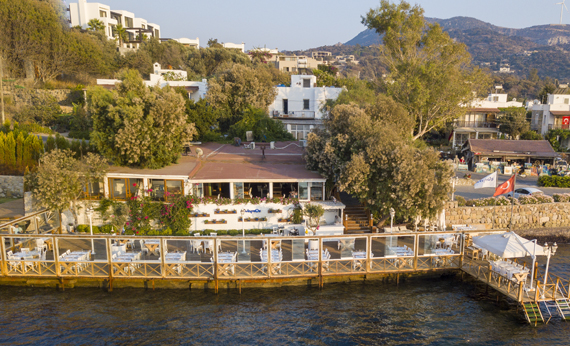 OUR RESTAURANT
Mynos is a traditional Turkish Aegean seafood restaurant ("rakı-balık"), located on Yalikavak's famous restaurant mile along its picturesque seafront, hosting the most popular and loved restaurants in Bodrum. Mynos is known for its wide selection of delicious meze, freshest seafood, attentive service and beautiful sunsets. Besides offering a variety of traditional dishes, the restaurant stands out with original recipes of Turkish favourites. Indulge in our food and drinks indoors in the modern yet traditionally mediterrenean seaside ambience with panoramic windows, or outdoors amongst the olive trees on the spacious terrace where you can enjoy the sea breeze and mesmerising sunsets upclose. At Mynos you are guaranteed to spend a memorable evening in a beautiful setting and warm atmosphere all year round.
Largest variety
of original meze recipes & fresh fish
Wide selection of Raki, local and international wines
Local charme with
guests from all over the world
Beautiful setting with 365 sunsets a year and breath-taking views
OUR OCTOPUS
Wondering why there is a an octopus in our logo? No, it's not just because we make excellent seafood and the octopus is one of our house specialties. There is in fact a bigger reason behind it. As the symbol and lucky charm of our restaurant, we actually named the octopus himself "Mynos". We like to believe that each of the eight arms of Mynos has a special meaning - health, love, happiness, kindness, wisdom, success, patience and peace. Therefore, every time you visit us we hope that Mynos is leaving a little lucky blessing with you.